WITH SO MUCH TO DO, WE'RE THE PERFECT DESTINATION.
No content found for supplied key. (cielo-vistatravelhere21) Replace this message with your HTML content.
Take a trip to El Paso, Texas, the authentic Southwest and you will find Cielo Vista Mall. Stroll through the largest mall in the metro area and experience the ultimate shopping experience with stores such as Dillard's, Sears, Macy's, and JCPenney.
Cielo Vista Mall is also home to over 140 specialty shops: Apple, Banana Republic, bebe, Build-A-Bear Workshop, Coach, abercrombie, Abercrombie & Fitch, Aeropostale, American Eagle Outfitters, Brighton Collectibles, Cache, Fossil, Gap, Guess, Hollister Co., Hot Topic, James Avery, Michael Kors, The Limited, Justice, Old Navy, Pandora, P.S. by Aeropostale, Sephora, Tilly's, Vans and Zumiez.
No content found for supplied key. (cielo-vistatravelhere22) Replace this message with your HTML content.
The mall features several restaurants such as Olive Garden, Red Lobster, Hooter's and many eateries inside the mall that include Chick-Fil-A, McDonald's, Hot Dog on a Stick, Taco Bell (coming soon) and Starbucks. You can also catch the latest movie releases at Cinemark Theaters located in the outer west parking lot.
Welcome, Bienvenidos a El Paso. Cielo Vista Mall.
---
No content found for supplied key. (cielo-vistatravelhere23) Replace this message with your HTML content.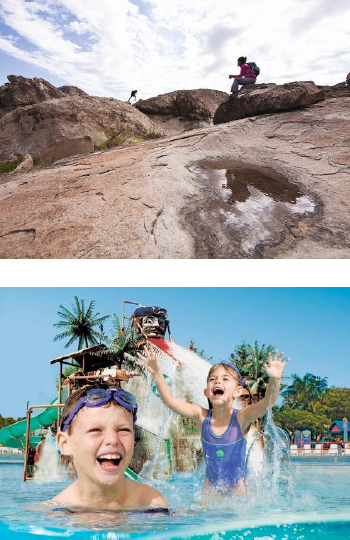 El Paso is located in the foothills of the Franklin Mountains. It's a city on a hill for outdoor enthusiasts. Know widely for its proximity to Mexico, its beautiful mountains and its rich cultural heritage, El Paso is also a land of great natural beauty. With the largest urban wilderness park in the United States, the Franklin Mountains State Park, the vastness and accessibility of its park system is what makes El Paso the ideal destination for the outdoor adventurer. Mountain bikers, picnicking families, campers, day hikers and nature lovers of all kinds will find a wealth of activities to enjoy in El Paso.
El Paso is a vibrant city offering visitors and residents alike a wide range of fun activities, cultural events, kids' attractions, museums, historic sites and other fun things to do. With so many great tourist attractions, from museums, cultural sites and kids' activities to historic monuments, casinos and live theatre, El Paso, Texas is the perfect destination for a fun vacation or weekend getaway with the family.
The Sun City offers a variety of accommodations from luxury to budget.
---
Cielo Vista Mall is located at the intersection of Interstate 10 and Hawkins Boulevard.
Cielo Vista Mall is approximately three miles from the El Paso International Airport.
---
Getting to other great destinations from Cielo Vista Mall is easy. Carlsbad and Carlsbad Caverns, New Mexico is just three hours east of El Paso. It is one of America's great natural treasures . Cloudcroft, New Mexico is the closest mountain retreat from El Paso. Cloudcroft is a quiet village with a population of just 750. Surrounded by the Lincoln National Forest and situated at 9,000 feet above sea level, the town has wealth of recreational alternatives. Ruidoso, Ski Apache and Mescalero, New Mexico is approximately 137 Miles from El Paso, Texas. Located 7,000 feet above sea level, in the cool pines, Ruidoso, NM has been a vacation hideaway for nearly 100 years. Fun activities such as skiing, hiking, camping, hunting, fishing, casinos and golf courses are only a few of the recreational activities that can be found. White Sands National Monument, approx. 70 miles from El Paso, preserves a portion of the world's largest gypsum dune fields.
No content found for supplied key. (cielo-vistatravelhere25) Replace this message with your HTML content.
You can drive through the dunes then stop at one of the numerous picnic areas. Kids of all ages love sliding down the dunes on plastic saucers sold at the visitor's center. Silver City is a destination in itself and the base camp for the Gila National Forest. The climate is mild with an altitude of about 6,000 feet above sea level. In and around the historic downtown, you'll find lots of art galleries, museums, shops, restaurants and Western New Mexico University. Within a short drive, you can see sites in the Gila National Forest, including the more than 700-year-old Gila Cliff Dwellings, lakes and breathtaking mountain vistas. Silver City is approx. 154 miles away from El Paso. Elephant Butte Lake & Sierra County is a great place to cool down or heat up. You'll find hot and cool water plus desert and pine forests to explore just two hours north of El Paso. Elephant Butte Lake is the largest lake in New Mexico offering a wealth of recreational activities year round.
gmap
El Paso has many bars, nightclubs and movie theaters which are within a 30 minute drive from Cielo Vista Mall.Carlos & Mickey's has a well-deserved reputation as one of El Paso's premier Mexican restaurants. The enormous restaurant (by El Paso standards) is usually packed on weekdays, and almost impossible to get in on weekends. One reason for its popularity is that it is a good family restaurant--there is a wide variety of menu items, mariachi music (sometimes), and adult beverages for the grown-ups (it is reputed to have good margaritas). Like many of El Paso's more upscale Mexican restaurants, there does not seem to be any one outstanding item, but almost everything is good.
The Cincinnati Avenue Entertainment District, located on Cincinnati Avenue between Mesa and Stanton Streets, is a collection of hip bars and restaurants that will please almost any palate. Here you can enjoy a gourmet pizza at Ardovino's Pizza, a pint of your favorite beer at Hemingway's or a stack of ribs at the Rib Hut. Also located on this small strip are GeoGeske Martini Grill, Crawdaddy's, Cincinnati Street Bar, Crave Kitchen & Bar and The Loft Bar.
Don't forget about our great movie theater located in the outer west parking lot at Cielo Vista Mall, Cinemark Cielo Vista 14
No content found for supplied key. (cielo-vistatravelhere29) Replace this message with your HTML content.
No content found for supplied key. (cielo-vistatravelhere30) Replace this message with your HTML content.
No content found for supplied key. (cielo-vistatravelhere2) Replace this message with your HTML content.
No content found for supplied key. (cielo-vistatravelhere16) Replace this message with your HTML content.
---
TAXI CABS
There are various types of transportation you can take to make your way to and from Cielo Vista Mall. Sun City Cab is one of most popular Taxi companies used by our customers. Other taxi service companies such as Border Cab Taxi, Checker Taxi Cab and Yellow Cab are also available.
SHUTTLE BUS
Want to discover another Country? Juarez, Mexico is right across our border and Juarez El Paso Shuttle can help you get there. They are a dependable family company, founded in 1993, dedicated to transport passengers for a fare fee and as quick as possible and in a responsible way by reservation. Their mission is to make your trip the best.
CITY BUS
El Paso also offers the Sun Metro Bus System. For a small fee, you can make your way around El Paso and visit all the wonderful sites and attractions that El Paso has to offer.
---
Get deals and special VIP mall events right to your inbox– sign up to become a Mall Insider today.